Transporting of remaining BVIEC generators on hold- as hauler encounters mechanical problems
ROAD TOWN, Tortola, VI- The transporting of the remaining two Wartsila generators for the BVI Electricity Corporation's (BVIEC) Phase V Power Development Project will be delayed due to a mechanical problem with the transporting hauler.
BVIEC's General Manager Leroy A. E. Abraham confirmed that plans to move the two 160 ton Wartsila generators from Port Purcell to their Pockwood Pond location have been halted due to the rupturing of a hydraulic hose on the hauler.
Speaking to this news site on Tuesday August 23, 2016, Mr Abraham said a hose, which is part of the hauler transporting the generators, was ruptured on the way back to Port Purcell for preparation for the second generator's move.
He informed that efforts have begun to find a replacement hose as far as Germany where it was manufactured and Puerto Rico.
"So everything in terms of transporting the engines has been put on hold naturally but we are trying to explore other opportunities."
Asked for a timeframe, Abraham said he could not state.
"Right now we are playing a waiting game with the transportation company."
No alternatives on island
The General Manager also stated that BVIEC is not responsible for any additional costs associated with the transportation of the three generators since a company was contracted to undertake the entire project.
Meantime, Abraham shot down suggestions of utilising a local heavy equipment to do the job.
"No it cannot be done; based on the weight of the equipment we don't even have a crane on the island," he noted.
The BVIEC boss had previously explained that the generators could not have been offloaded at Pockwood Pond due to the absence of a deep water harbour and adequate docking facilities.
The first generator was transported safely to Pockwood Pond between Sunday night and Monday morning, although the operation was delayed for more than three hours.
The three new 8 Megawatt Wartsila generators are for the BVIEC's Phase V Power Development Project, which in a previous interview on August 19, 2016, Abraham said signified the light at the end the tunnel with regards to electrical issues in the territory.
He had projected that by the end of January (2017), that project would be finished and BVIEC's generating capacity would have significantly increased.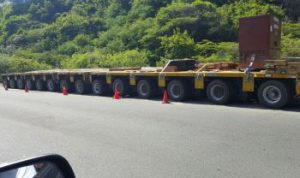 Reference
Transporting of remaining BVIEC generators on hold- as hauler encounters mechanical problems. (2016, Aug 23). Retrieved from BVI News: http://bvinews.com/new/delta-suffers-second-defeat-in-battle-with-bviec/