Transporting of BVIEC generator still ongoing- expected to be complete in an hour or so, according to BVIEC General Manager Leroy A. E. Abraham
SEA COWS BAY, Tortola, VI – The transporting of the 160 ton Wartsila generator from the Port Purcell dock to the BVI Electricity Corporation's (BVIEC) Pockwood Pond Power Plant has been delayed for close to three hours already.
BVIEC was expecting to complete the moving of the first of three generators between 10:00 P.M. last night and 5:00 A.M. this morning, August 22, 2016, however, there were some difficulties, especially in the Sea Cows Bay area, between 'Elevator Hill' and E&B Grocery at Hannah's.
"This is crazy. That's what everyone was saying they needed to find a way to barge those thing to Pockwood Pond, this is crazy all night no light and this is going to take hours if not all day. Thank God school not open yet or it would be pure madness," said one resident.
The vehicle transporting the generator had apparently stuck just a few yards from where a similar one fell of the truck some years ago in a similar activity.
BVIEC General Manager Leroy A. E. Abraham had previous explained that the generators could not have been offloaded at Pockwood Pond due to the absence of a deep water harbour and adequate docking facilities.
Speaking to Virgin Islands News Online this morning, Mr Abraham confirmed that the transporting of the generator was still in progress.
"We are right now in the progress of transporting it. We are here by Havers and we anticipate being down by Pockwood Pond in about an hour/hour and a half, Mr Abraham said around 7:25 A.M.
The GM also confirmed that there were challenges along the way, however, he did not get into details.
"It is just one of those exercises where the first one is always the most challenging. We need to identify all the snags and all of the challenges that we need to confront. Once we mitigate those challenges, Tuesday and Thursday nights should go much more efficiently."
The three new 8 Megawatt Wartsila generators are for the BVIEC's Phase V Power Development Project.
"This signifies the light at the end the tunnel with regards to our woes of electrical issues in the territory. Within the next four to five months, by the end of January (2017), that project would be finished and BVIEC's generating capacity would have significantly increased," Mr Abraham had told this news site in an exclusive interview on August 19, 2016.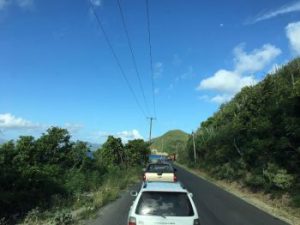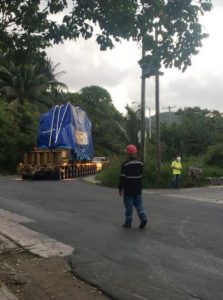 Reference
Transporting of BVIEC generator still ongoing . (2016, Aug 22). Retrieved from VINO: http://www.virginislandsnewsonline.com/en/news/transporting-of-bviec-generator-still-ongoing