BVIEC'S GM APPOINTED CHAIRMAN OF CARILEC
General Manager of the BVI Electricity Corporation (BVIEC) Leroy Abraham has been appointed as Chairman the Caribbean Electric Utility Services Corporation (CARILEC) — the first GM of the BVIEC to serve in that post.
A media release from CARILEC confirmed the appointment, stating that it was prompted following the retirement of the former Chairman, Eddinton Powell on December 31, 2020.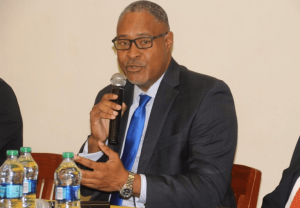 Abraham had previously served as Vice-Chairman and will hold the new position until CARILEC's next annual general meeting which is slated for May 2021.
Speaking to BVI News following the announcement, Abraham expressed gratitude towards the organisation for the selection in such a pivotal role.
"I am truly humbled by the confidence placed in me by my fellow peers and colleagues in my appointment in this new leadership role of this regional organisation CARILEC," he said.
"As Chairman of the Board, myself along with all the other Board members have a fiduciary responsibility for ensuring the proper stewardship of the organisation in continuing to provide sound leadership in aiding the organisation to navigate successfully through and adapt to the changing dynamics brought about by this global pandemic," Abraham added.
CARILEC, which was established in 1989, is an association of energy solution providers and other stakeholders operating in the electricity industry in the Caribbean.
The organisation comprises of more than 100 members which include 33 full members that are electric utilities, and more than 80 independent power producers, associate members, and affiliate members that are companies involved in some aspect of servicing the electric utility business.
Reference
BVIEC's GM appointed chairman of CARILEC. BVI News. (2021, January 11). Retrieved November 26, 2021, from https://bvinews.com/bviecs-gm-appointed-chairman-of-carilec/.